We are so excited to welcome our new Primary 1 children to Calderwood and into our Calderwood family. We appreciate that this will be an anxious time for families with children who are about to start this brand new chapter in their lives. We will share updates and relevant information for you on this page.
Click
here
to read our
School Handbook
, where you will find some useful information.
Click
here
for information on how to download our
School Ap
p to be kept up to date with the latest information.
FAQ for our New P1 Calderwoodies and Families - added 02.06.21
NEW!!!
We know that preparing for your child to start school is a very exciting time, but that you will also have lots of questions and, perhaps, some uncertainties – especially at this time, with some Covid-19 restrictions still in place in schools.
In order to help, for 'Welcome Wednesday' this week we have provided a list of questions frequently asked by our new P1 parents and carers, with responses from our Parent Council. Please
click here
to have a read through them. The answers to these questions have been adapted in light of the current situation. There are certain things, such as whether we will still have staggered start and finish times, that we currently do not know the answer to. We will keep you updated with this information as soon as we know.
We would also like to invite you all to a virtual information session on
Wednesday 9th June 2021
at
7pm
, hosted on Zoom by our Parent Council. This will be an opportunity for you to hear from Calderwood staff, meet our Parent Council and have an opportunity to ask any questions you have. You will receive a link to attend the meeting via email.
In order to help us manage the questions, We have created a Google Form for you to put your questions forward in advance. Please
click here
to access the form, which will close at 9am on Tuesday 8th June to allow us to sort through questions ahead of the meeting.
We look forward to seeing you all (virtually) on the evening.
A Special Welcome from the P1 Class of 2021 - added 26.05.21
Our current Primary 1 children have made a special video for you to watch, all about their first year at Calderwood. There is also a special welcome at the end from your soon to be P7 buddies. Click on the image below to watch!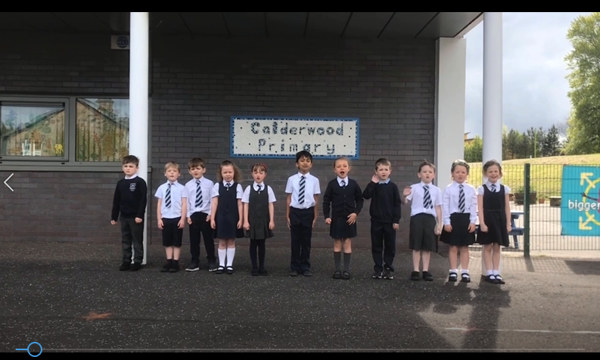 Meet the Teachers - added 19.05.21


There are some very important people who can't wait to meet you. Click on the image below to watch a very special welcome video from our three Primary 1 class teachers, Miss Collins, Mrs Allison and Mrs Cairns. We hope you enjoy!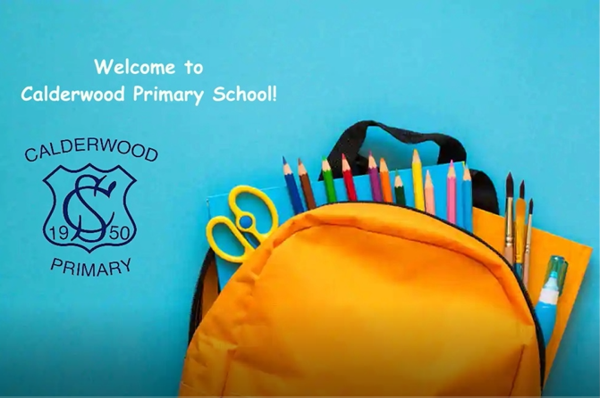 Our School Uniform and Starting School Checklist - added 05.05.21


We'd like to share our school uniform with you, we are all very proud to wear it. A special thank you to two of our current P7 pupils, Jamie and Esther, for preparing the video for you below. Esther has also drawn a special Calderwood boy or girl for you to colour in and share with us, and your friends and family. Please

click here

to download your very own special colouring pages. We'd love to see your photos...please tag us @calderwoodslc on Twitter. As part of your very special welcome pack that you will receive in the coming weeks, you will be gifted your very own Calderwood tie ready for starting with us in August!